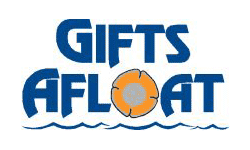 We carry everything you need to decorate in a nautical theme.
Come visit us and let us know about the space you are trying to decorate.
We can help you pick out the perfect items to decorate your living room, kitchen, bedroom, bathroom,  office, or bar.
We carry items like these.  Stop into the store to see our full stock.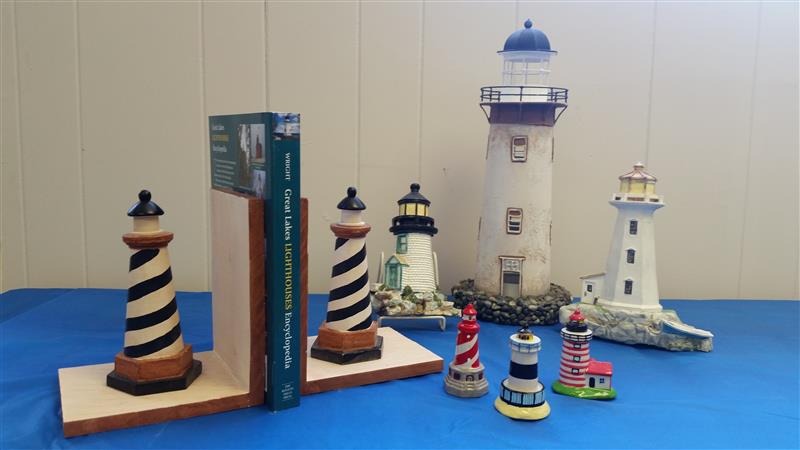 Lighthouses
Wooden Bookends
Great Lakes Lighthouse Encyclopedia
Metal Lighthouse
With Pebble Base
Holds Candle
Wall Sculptures
Signed by Artist
Crafted in USA
8" Tall and 9" Tall
Lighthouses with Lights
3 1/2" Tall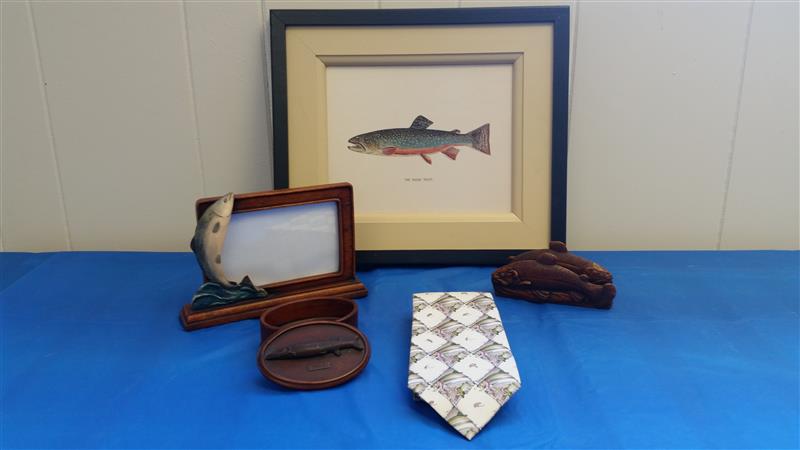 Fisherman's Treasures
Resin Photo Frame
Holds 5 1/2" x 3 1/2" Photo
Resin Box with Pike Fish
Trout Art
Other Fish Available
15" x 13"
Resin Letter Holder
Silk Tie with Fish Décor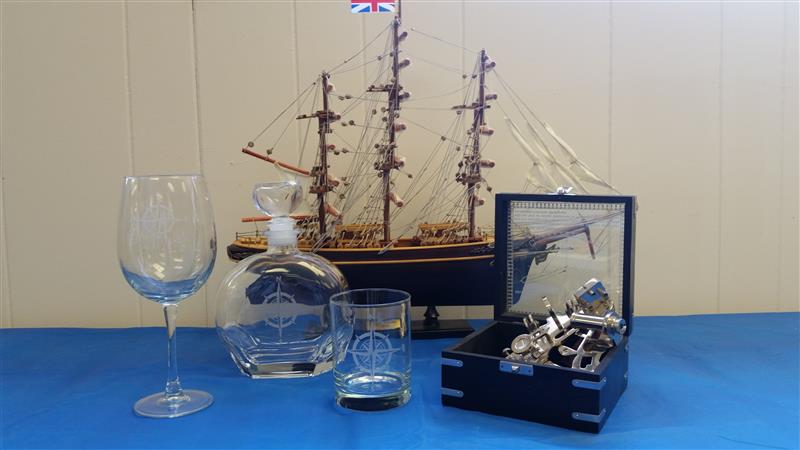 Seafaring Heritage Collectibles
Compass Rose Etched on Glass
Decanter 9" x 6"
Stem Wine 9"
Double Old-Fashioned 4"
Sextant with Glass Topped Box
Sextant – Décor Only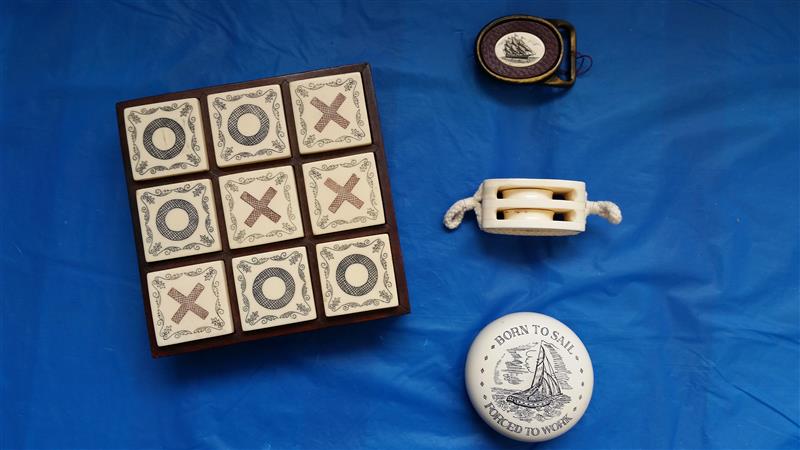 Scrimshaw
Tic Tac Toe in Box
Resin 5 1/2" x 5 1/2"
Paperweight
Crafted in England
3" Diameter
Belt Buckle
with Leather and Brass
Handcrafted Mammoth Ivory
Resin Man Made Material
Ship's Block
Crafted in England
2 ½"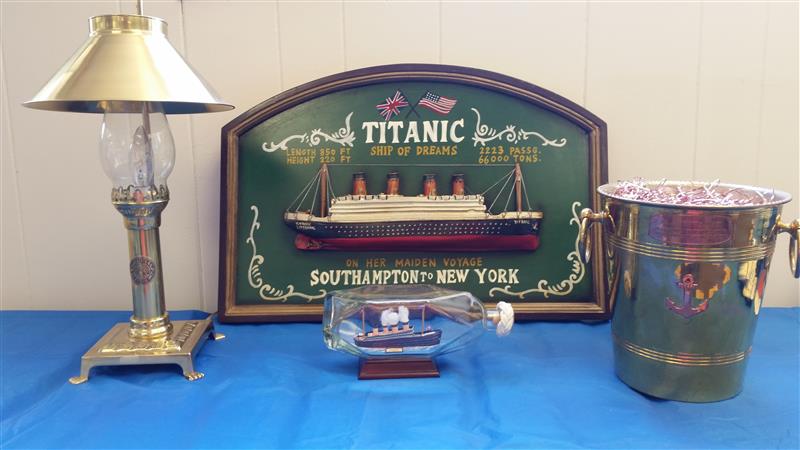 Titanic - Ship of Dreams
Titanic Brass Lamp
Replica of the First Class Lights
Electric 22" Height
Titanic on Wood Plaque
23 ½" x 16"
Titanic in Ships Bottle
on Wood Base
Crafted in England
9" x 3"
Titanic Brass Ice Bucket with Copper Trim
Replica of Titanic's
9" x 8"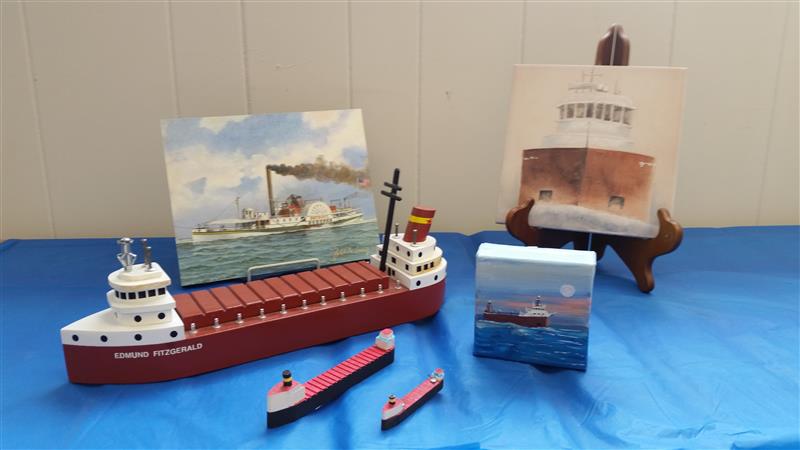 Freighters and Local Artists
Steamer Detroit 1846
Print 7 1/2" x 9 1/2"
Edmund Fitzgerald
Wood 15" x 3 1/2"
Cribbage Board on Deck
Wood Freighters
6" and 3 ½"
Tile on Wood Base
8" x 7 1/2"
Painted Canvas
4" x 4"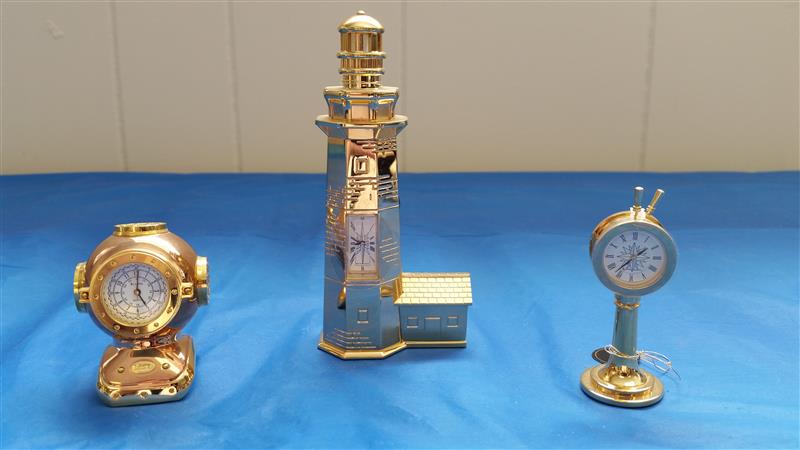 Keepsake Clocks - One of a Kind
Mark V Diver's Helmet
Copper with Brass Trim 2"
Lighthouse with Clock
Solid Brass 4 1/2"
Ship's Telegraph
Clock on One Side
Movable Throttle on Other
Solid Brass 2 1/2"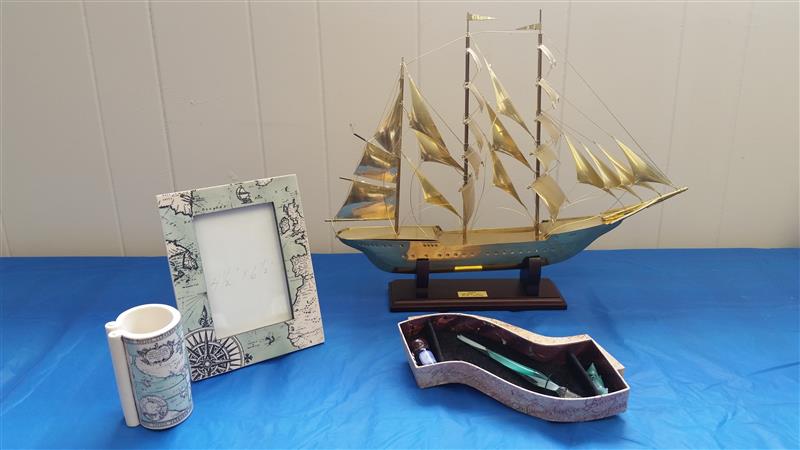 More Seafaring Heritage Collectibles
Photo Frame with World Décor
Holds 4 ½" x 6 ½: photo
Pencil – Pen Holder with Matching Décor
Brass Clipper Ship on Wood Stand
18 ½" x 15"
Pencil – Pen Holder with Matching Décor
Handblown Glass Pen with Pen Rest and Ink
7" long
These are a few examples of products we carry.   Our stock changes and the products shown may or may not be available.  If you have questions please
contact us
!